STAGE 5 – UHERSKÉ HRADIŠTĚ - HODONÍN
The total length of the section is 44 km. From Uherské Hradiště, the last town of the fourth stage, we will go to Kunovice, where we can visit the Aviation Museum. If you do not want to ride through the town and do not mind avoiding Kunovice, you can head towards Kostelany and rejoin the trail in Ostrožská Nová Ves, where we will pass through the area of ​​the local sulphur baths. The dominant feature of Uherský Ostroh is a Renaissance chateau with an arcaded courtyard. The chateau offers a sightseeing route with an ascent to the tower; it is also possible to see the gallery or descend to the chateau's underground area – to the Crystal Cave exhibition.
The chateau also houses the town hall, a library, and an information centre. The next via point on our route will be the town of Veselí nad Moravou. The most interesting object in the town is the observatory, which is open daily. There is also a port on the Baťa Canal and a town museum. Unfortunately, the local chateau is dilapidated and is not open to the public.
The town of Strážnice is worth a longer stop, as it offers a number of attractions. The pride of the town is a chateau (originally a water castle founded in the 13th century) with an extensive park. The Strážnice open-air museum – the village museum of south-eastern Moravia – should definitely not be missed. The expositions acquaint the visitor with the way of life in the highland and lowland areas of Slovácko. Other sights of the town include the Průžkův mlýn mill, with an exhibition of milling, and the well-preserved town gates from the second half of the 16th century. You can cool off and take refreshment in one of the wine cellars in the surrounding villages. You can spend the night in Strážnice or move on to Hodonín, known as the "Town of Oil".
Hodonín is an industrial town, the seat of the oil industry. You can learn more about oil extraction in Moravia at the Museum of Oil Extraction and Geology. However, Hodonín is also the birthplace of the first Czechoslovak president, Tomáš Masaryk, who has a large exhibition in the municipal Masaryk Museum, which is housed in the chateau. In Hodonín, we can also find a zoo, which boasts, for example, the breeding of a rare Ussuri tiger.
Czech Rail Bike
The recommended starting point for the Moravian Trail is Staré Město u Uherského Hradiště (line no. 330: Přerov - Břeclav).
If you get tired, you can reach the nearest railway station at any time, as line no. 343: Kunovice - Veselí nad Moravou runs parallel to the Moravian Trail.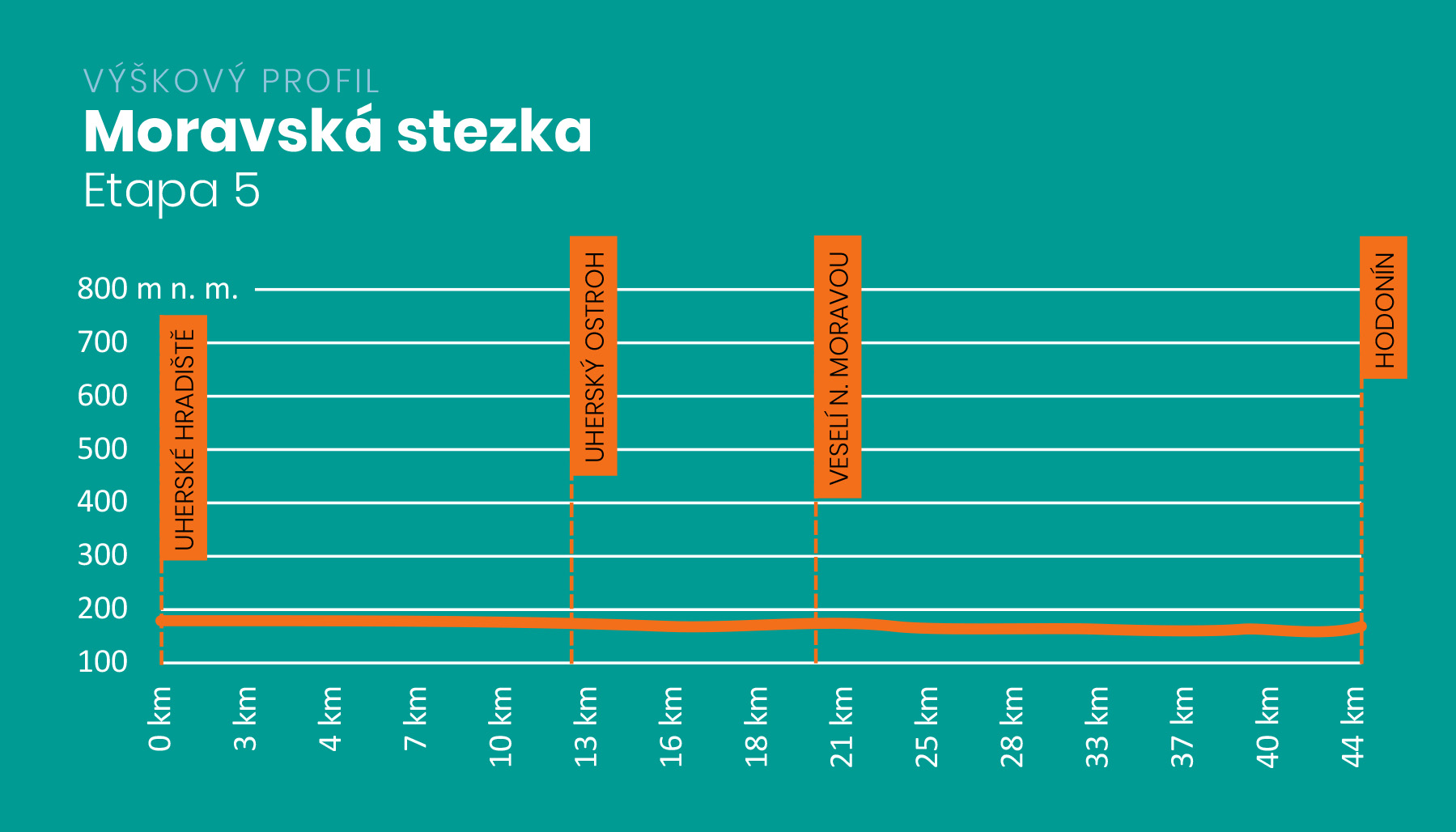 Kostelany nad Moravou
Nedakonice
Kunovice
Ostrožská Nová Ves
Uherský Ostroh
Vnorovy
Ratíškovice
Strážnice
Petrov
Sudoměřice
Rohatec
Hodonín
Veselí nad Moravou
© 2021 Moravská stezka, z.s.. Jakékoliv užití obsahu včetně převzetí, šíření či dalšího zpřístupňování článků a fotografií je dovoleno pouze se svolením spolku Moravské stezky a s uvedením zdroje. | ondrejfirla.eu